Computer keyboards have been used with personal computers since the 80s. Even today, keyboards are used in large quantities in homes and offices. There are many types of keyboards, which are designed according to the needs of the user.

{tocify} $title={Table of Contents}
What is keyboard
Keyboard is used with personal computer everywhere in school, college, shop, office and home. Keyboard is an important input device with the computer. With the help of which we write text and numeric values on the notepad of the computer.

Some special character buttons (keys) also come with the keyboard, as well as some buttons are also used to manage the text written by the keyboard.Some keys of the keyboard are also used for the purpose of management inside the computer.

You can understand the keyboard like a typewriter, which does the work of writing inside the editor on the computer screen. Nowadays keyboard is connected with computer through USB port.

Keyboards are used with Microsoft operating systems, Unix operating systems, Linux operating systems, Mac operating systems, and all other operating systems. It is the primary input device for any personal computer or laptop.
You May Like Also : What Differentiates a Gaming Mouse from a Regular Mouse
You May Like Also : Buy 8 Best computer mice under ₹400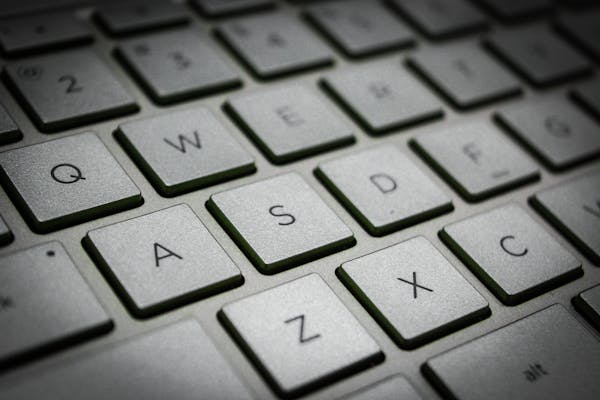 What is the full form of keyboard
Keyboard is an English language word, which is called KEYBOARD. Each of its letters has its own meaning. Which is as follows –

"Keys Electronic Yet Board Operating A to Z Response Directly"

K--Keys
E--Electronics
Y--Yet
B--Board
O--Operating
A--A to Z
R--Response
D--Directly

Keyboard in Hindi language is known as Kunjipatal (कुंजीपटल)


How many buttons are there on the keyboard
A standard keyboard has 104 buttons (keys), but some companies have launched keyboards with different number of keys. Inside which there are keys from 101 to 108.

The number of keys can vary as per the requirement inside the gaming keyboard. It depends on the requirement of the user and the requirement of the game.


Keyboard key information
Mainly there are five types of buttons inside a standard keyboard. Inside the gaming keyboard, separate buttons are also given for the purpose of gaming.


typing alphabet keys
typing numeric value keys
function keys
control keys
special character keys
navigation keys

Alphabetic typing keys with 26 characters are found inside the keyboard.

There are two sets of numeric keys inside the keyboard. From where the numeric value is controlled.

There are also some special character keys inside the keyboard. Which are used for different purposes.

The pointer of the keyboard can be moved back and forth up and down with four navigation keys.

Various types of operations in the computer are performed through the keyboard with 12 function keys. Which are displayed in the keyboard from F1, f2 to f12.

Inside the control function keys, you will find Control (Ctrl), Escape (Esc), Caps Lock, Delete (DEL) keys, Home, End keys, Insert and Alternate (Alt) keys are avaible.


How many types of keyboard are there
Over time, the requirements kept increasing and gradually many types of keyboards started coming into existence. Today many types of keyboards are available in the market to serve different purposes. The types of which are like this---


Qwerty keyboard
Wired Keyboard
Bluetooth keyboard
Mechanical keyboard
USB keyboard
Membrane Keyboards
Gaming keyboard
Magic keyboard
Backlit Keyboard
Flexible Keyboard
Ergonomic keyboard
Wireless keyboard
Multimedia keyboard Purpose built to manage multiple multimedia needs. Inside this, you get audio and video control from the keyboard itself.
Mechanical keyboard performs the operation using a special type of technology, on the basis of the same technology it is named mechanical keyboard.


Wireless keyboard does not require to be connected to the computer. It exchanges data with the computer via WiFi or Bluetooth.


Virtual keyboard does not have any physical appearance. This is a keyboard created by software. Which works by touching the screen or by pressing the glowing button of the keyboard on the screen through the mouse.


The keyboard that connects to the USB interface is called the USB keyboard, it is the most popular these days.


The Ergonomic keyboard has received this name because of its design. This keyboard has been manufactured keeping in view the special requirements. Using this keyboard does not put extra pressure on the muscles. It is quite suitable for heavy users of the keyboard. As if you are playing a game.


QWERTY Keyboard is a standard keyboard. Which was first manufactured and even today this keyboard is used the most. It is named after its initial alphabet letters.


For the purpose of gaming, such keyboards whose performance is very good. Gaming keyboards are called. There are many parameters of gaming keyboard. Keyboards that touch these parameters come under the category of gaming keyboards.

Similarly, whatever keyboards are made with different qualities, which fulfill different types of different needs. The keyboard has been named after them. It is not at all the case here that a keyboard cannot be of two types. A gaming keyboard can also be a USB keyboard, and it can also be a wireless gaming keyboard.
You May Like Also : Best 5 budget Gaming Mice under 1000 INR

Hindi typing keyboard
Hindi typing keyboard is not easily available in the market it is found only after searching a lot. If you are looking to buy keyboard hindi typing or hindi keyboard, or you are willing to learn hindi typing. For this, first of all it is very important to have Hindi fonts inside your personal computer or your laptop.

If you do not have Hindi fonts in your computer or laptop, then whatever you type from the keyboard according to Hindi, you will see it in the form of extremely complicated letters. Whom no one can recognize. You will feel that this keyboard is not working properly.

You can also buy Hindi fonts online through many websites and they are also available online for free, for this you have to search Hindi fonts online.



If you want to do Hindi typing through your computer or laptop, then for this you will need Hindi language support keyboard, you can get it in two ways.

You can buy such keyboards from the market or online which will help you in Hindi typing. Secondly, you can also take the help of virtual keyboard created through software, which you can easily create through any software in your phone or your laptop.

Typing through a physical keyboard is very easy and fast. Typing through the same virtual keyboard is difficult if you not have a touch screen laptop or personal PC, in that case this virtual keyboard is very beneficial for you.


Hindi typing keyboard chart download
If you are looking for a special key of Hindi typing keyboard chart, then you can easily get it by purchasing online, which you can put on your keyboard and easily learn typing. this you can also download from online. You can get keyboard Hindi typing charts. Which you can download and learn Hindi typing with the help of them,.


Save image for Hindi Typing Chart

You download the above image. Save it in your computer and with the help of this you can learn Hindi typing alphabets.
Keep in mind that you are downloading kruti dev hindi typing keyboard chart.
How to do Hindi typing with English keyboard
Typing Hindi through English keyboard is not easy. For this the keyboard has to be optimized according to the Hindi keyboard. This optimization is done through software. For this you will get online software. You have to search in Google in this regard and you will be helped.

It is not all that easy. Because the letters of Hindi keyboard are not marked inside the English keyboard. That's why typing Hindi in this way or learning Hindi typing is not an easy task. It takes too long.
The best solution for this is to buy a Hindi friendly keyboard from the market or online, or you can download or buy a Hindi typing keyboard chart for this. You will also find it very easily online.





Nowadays technology has become very advanced. That's why you will not need to learn Hindi typing at all.

You can convert it into Hindi words only by typing in English. For this you need some software, which is provided to you by Google and it is absolutely free.

Although this is not a professional method at all. To do Hindi typing in a professional way, you have to learn Hindi typing only. You can also use the online Google translator.

You can also use the online Google translator. But it only supports you online. To do offline typing, download Google Input Tool and Google Indic Keyboard and install it on your PC and with its help you can do Hindi typing.

Help Link
[Google Indic Keyboard Help]
[Google Input Tool Help]


What is google keyboard
Google Keyboard is a typing tool for Android phones via a mobile application. It is a virtual keyboard which works through screen touch in mobile.

Before 2014, Google uploaded the Google Indic Keyboard app on the Play Store. Which was used in mobile Android mobile phones for the purpose of typing. But after 2014, this application was removed by Google from the Play Store.


How to change keyboard setting
Mainly there is no need to change keyboard setting in PC. It automatically takes its setting default.

But if you are using an Android phone, then you need to go to the keyboard setting to change the language as per your convenience there.

Virtual keyboard is functional inside Android mobile. For this you first need to go to an editor.

As you open the editor to write an email in Gmail, the virtual keyboard will appear. Whether you want to write WhatsApp message or any mobile sms. Even if you want to write, you will see the virtual keyboard and go inside the settings there and see the instructions. You can set the keyboard of your Android phone according to your language.